Over the past decade, automation has dramatically changed how companies do business. The legal industry is certainly no exception, with an estimated 23 percent of a lawyer's tasks that can be automated.
This is the first in a series of articles regarding legal automation and will cover the "why, what, and how" of automating the law office. In the remaining articles, we will showcase automation being applied in different legal practice areas.
Technology Adoption
The 2020 COVID-19 pandemic, and subsequent social distancing and remote work mandates, led to an unprecedented acceleration in technology adoption within law firms of all sizes. From a paper-centric view, the pandemic-related implementation of legal technology (legaltech) in law firms unfolded in the following stages: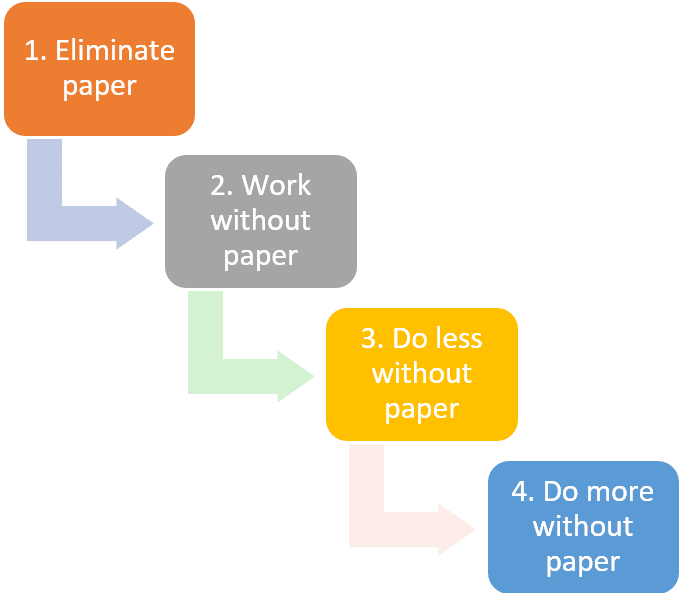 This series of articles is focused on the application of legal automation to Do Less Without Paper and Do More Without Paper.
Stage 3 Do Less Without Paper
Stage 3 Legal Automation enables you to do the same thing with a lot less effort, achieving greater efficiency through process streamlining. Imagine a world where paper files have been replaced by virtual folders and a database, no double-entry, one version of the truth, no human errors, less rework, with everyone always on the same page.
Stage 4 Do More Without Paper
Stage 4 Legal Automation technology builds new capabilities and augments human capabilities, including self-help legal services.
Why Legal Automation?
The automation of legal work is a win, not just for the consumer of legal services, but for law firm owners, legal associates, and paralegals as well.
For law firm partners, automation translates to increased efficiency, lower headcount, higher profitability, more time for strategic planning and capability building.
Also, if cloud technologies are deployed, tasks can be carried out from anywhere, and the law firm becomes both virtual and pandemic ready.
Automation also enables legal teams to meet unrelenting client demands to do "more for less and faster-better-cheaper". It is now readily apparent that clients expect lawyers to use technology to deliver legal services in the same way that they do their other service providers (banks, government agencies, judiciary,2 tailors,3 department stores4 or doctors5).
For the junior lawyer and paralegal in a law firm, automation means less time on menial, repetitive tasks and more time doing valuable, billable work. This, in turn, develops valuable skills and experiences that add real value to him/her, the client, and the law firm.
All of this ultimately translates into higher job satisfaction and a greater sense of well-being.
In a competitive and increasingly regulated environment where workloads continue to soar and legal teams become even more stretched, legal automation can play a big part in "doing more with even less".  read more
Source: The Singapore Law Gazette
About Serena Lim
Serena is the founder and Director of Bizibody, Litigation Edge, and several other companies. Her group of companies services over 250 law firms in Singapore and Malaysia.