Litigation Edge Singapore is a Media Partner of TechLaw.Fest
The 5th annual conference to focus on innovations in the law of technology and the technology of law.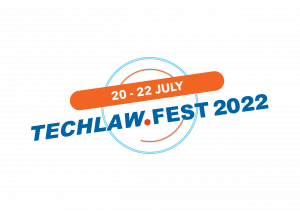 TechLaw.Fest, the premier law and tech conference in Asia, returns for the fifth year in July, bringing together over 2,000 legal, tech, and government leaders who will deliberate and explore legal issues surrounding the metaverse and their impact on the practice of law.
After being held online in the last two years, TechLaw.Fest 2022 to run from 20-22 July, will return to a hybrid setting but with a twist. On the first day, participants will experience the metaverse with the help of virtual reality (VR) headsets at a one-day exhibition at the Marina Bay Sands Singapore. The metaverse, widely seen as the future of the Internet, is expected to usher in a new era of an immersive, interactive virtual world that runs parallel to the real world.
"The TechLaw.Fest is a big opportunity to discuss and understand the new phases of technology and those of human thought. TLF is consistently receiving kudos of approval from the intelligentsia! it deserves beyond this." – Abdul Basit Jasra, Deputy Secretary at Government of Pakistan
A two-day virtual conference that follows the "digireal" exhibition will feature discussions from global thought leaders on the legal implications of moving into the virtual world and other features of Web 3.0 like blockchain and 5G. The impact of these technologies on the legal profession will also be examined.
Singapore's Minister for Culture, Community, and Youth and Second Minister for Law, Mr Edwin Tong SC, will deliver the keynote speech. Other speakers include Mr Arthur Sychov, Founder and CEO of popular VR world Somnium Space; Ms Madaline Zannes, one of the first lawyers to set up a law office in the metaverse; and Mr Arif Khan, CEO of Alethea AI, which uses artificial intelligence to build intelligent and interactive NFTs.
TechLaw.Fest is a signature event of the Singapore Academy of Law (SAL) that examines issues related to the law of technology and the technology of law. MP International and the Ministry of Law, Singapore are co-organisers of this year's exhibition and conference.
>> Click Here For Free Registration To TechLaw.Fest 2022 <<
TechLaw.Fest's deep dive into the metaverse is timely, as some research estimates that a quarter of people will spend at least an hour a day in the metaverse come 2026.
"The next iteration of the internet (Web 3.0) coupled with next-generation interfaces using augmented and virtual reality will bring benefits and challenges. All new technologies give rise to novel legal issues. TechLaw.Fest offers a timely forum to experience, explore, discuss and exchange ideas on how to either mitigate risks or resolve these novel legal issues. We look forward to the experiences and insights that TechLaw.Fest will bring." – Mr Rama Tiwari, Chief Executive of Singapore Academy of Law
DXC Technology is once again the Digital Transformation Partner of TechLaw.Fest 2022. Said Mr Bill Deckelman, its Executive Director and General Counsel, "The metaverse is an exciting evolution. Every new technology presents both risks and opportunities and in that respect, the metaverse is not different. The opportunities for collaboration and even improving a company's sustainability posture with reduced travel and in-person meetings are immense. But so are the potential risks. The need for embedded security protections, enhanced identity, and privacy measures need to be top of mind so that organisations can enter this new virtual world securely and safely."
TechLaw.Fest 2022's Global TechLaw Partner is Gibson, Dunn & Crutcher LLP. The firm's Partner-in-Charge of its Singapore Office, Ms Elaine Chao said: "Gibson Dunn is delighted to partner SAL in TechLaw.Fest once again. We are honoured to support an event that is itself constantly innovating, addressing critical emerging issues in law and technology, and providing insights into the ever-changing virtual world."
KAS Singapore will be partnering TechLaw.Fest 2022 as its International Community Partner. Mr Stefan Samse, Director, Rule of Law Programme Asia at KAS, said: "The metaverse is blurring the distinctions between reality and fantasy. While this innovation is extremely advanced and future-oriented, it is raising questions about applying existing laws to the virtual world. KAS is extremely delighted to support TechLaw Fest 2022 given the urgent need to drive this dialogue."
About TechLaw.Fest
TechLaw.Fest is a signature Law & Technology event hosted annually in Singapore. TechLaw.Fest brings together the international community to debate, deliberate, act, and innovate in both the law of technology (policies, regulations, legislation, case law, and governance) and the technology of law (infrastructure, business transformation, and people development). It is co-organised by the Singapore Academy of Law, Singapore's Ministry of Law, and MP Singapore. More information can be found at www.techlawfest.com.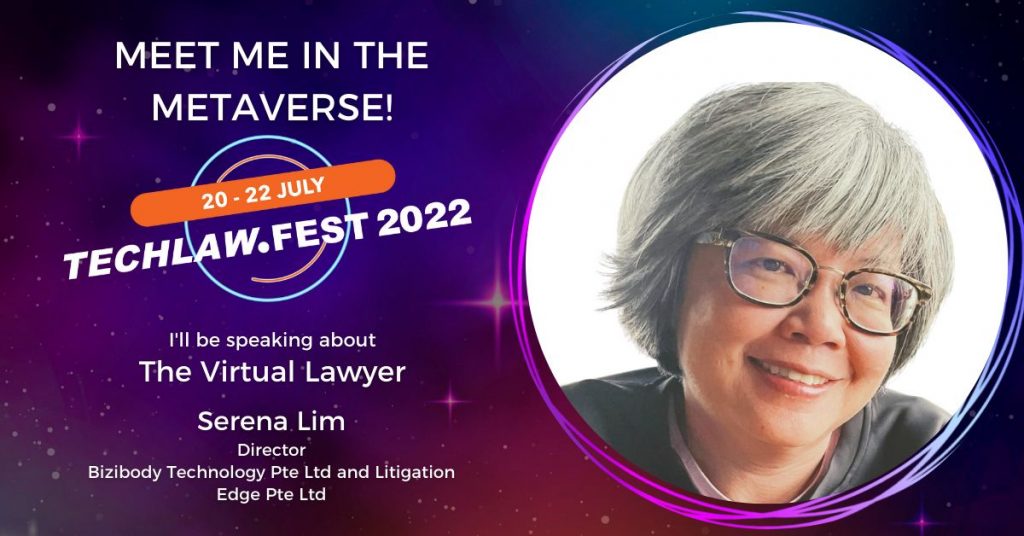 Litigation Edge and Bizibody Technology
Serena Lim, Director of Litigation Edge and Bizibody Technology will be speaking at this year's TechLaw.Fest:
SESSION: Tech of Law: The Virtual Lawyer – How Digitalisation is Changing the Business of Law
DATE: 21 July 2022
TIME: 1430 – 1600 HRS (SGT)
About the Singapore Academy of Law
The Singapore Academy of Law (SAL)'s vision is to make Singapore the legal hub of Asia. SAL works with our stakeholders to set new precedents of excellence in Singapore law through developing thought leadership, world-class infrastructure, and legal solutions. More information can be found at www.sal.org.sg.
About Ministry of Law, Singapore
The Ministry of Law is a ministry of the Government of Singapore responsible for ensuring that Singapore's legal infrastructure is clear, efficacious, and transparent. It is currently led by Minister for Law K Shanmugam. The Ministry of Law formulates and reviews legal, intellectual property, land, insolvency, public trustee, moneylending, pawnbroking, legal aid, and community mediation policies, as well as legislation and strategies under MinLaw's purview; provides legal and policy input for other Ministries' proposed Bills and programmes; develops the legal services, alternative dispute resolution, and intellectual property sectors; and regulates and licenses all law practice entities and registers foreign-qualified lawyers in Singapore, amongst other its other functions. More information can be found on www.mlaw.gov.sg. 
About MP Singapore
Trusted since 1987, MPI embodies more than a quarter-century of event building, marketing and management experience in both Eastern and Western cultures, practices, and business philosophies. We bring world-class talent, industry expertise, and incredible enthusiasm to the design and management of extraordinary online-to-offline experiences for your organisation. MPI is part of Pico Group, a global group of agencies specialising in engaging people, creating experiences, and activating brands for businesses, institutions, and governments. As part of the Pico Group, MPI has unlimited access to a wide network of industry contacts and resources. Pico Far East Holdings has been listed on the Hong Kong Stock Exchange since 1992. For more information, visit www.mpinetwork.com.
TechLaw.Fest 2022 Programme
TLF22_Programme eBooklet_5Jul

download here