Litigation Edge's InSync Evidence Platform Receives Legal Transformation Award
Litigation Edge is proud to announce that our InSync Evidence Platform has won the 2021 Legal Transformation Project Award from the Asia-Pacific Legal Innovation & Technology Association (ALITA).
ALITA announced the winners of the SOLIA Awards during TechLaw.Fest, a legal technology conference held in Singapore from 21 – 24 September 2021.
About The SOLIA Awards
The ALITA SOLIA Awards create an APAC-centric set of legal technology and innovation awards – one recognised as high-quality, community- and project-based, ethical, and tied to the long-term growth of the industry.
The primary aim of the SOLIA Awards is to provide recognition and highlight exemplary role models for legal technology in the region, to give a voice, and raise the stature of APAC's legal innovation and technology industry.
Key Distinguishers
1. First! No other substantive, community- and ecosystem-based awards in the region in this space.
2. Transformative – Eschew big-name initiatives for truly transformative projects.
3. Substantive – Recognise and incentivise efforts made in the journey of innovation, rather than for superficial outcomes.
4. Enabling – Recognise new players, incentivising new and potentially disruptive entrants.
5. Inspirational – Recognise individuals who have displayed outstanding dedication to the use of legal innovation and technology.
6. Inclusive – Unique judging system in which all stakeholders will have a say.
Main Award Categories
1. Legal Tech Entrant of 2021 – New start-up that has the potential to scale and significantly transform the legal landscape in the future, or adopt innovative/breakthrough technologies.
2. Legal Transformation Project – Project of innovation or technology adoption, with success already seen or to be expected in the future (despite failures faced).
3. Techcess to Justice – Community/grassroots initiative that has helped increase access to justice through technology or innovative means.
About ALITA
The Asia-Pacific Legal Innovation and Technology Association (ALITA) is the premier legal technology association driving collaboration in legal innovation and technology in the region. With a membership base of over 200 member organisations, including top global law firms, legal technology companies, in-house departments, and public institutions, ALITA is a young yet increasingly prominent rallying force for Asia-Pacific's legal industry.
About InSync Evidence Platform

InSync is a legal technology solution created by Litigation Edge to enhance virtual hearings and promote efficient collaboration amongst geographically dispersed legal teams.
The next-generation platform is layered with easy-to-use evidence review and management functions designed to streamline and automate work processes throughout litigation, arbitration, and mediation lifecycles.
InSync has revolutionized how legal professionals work and transformed the dispute resolution experience for those involved in the delivery of justice.
About Litigation Edge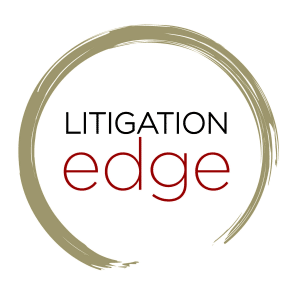 Litigation Edge is a Singapore-based provider of electronic discovery, virtual hearing, and litigation support services. Established in 2011, we have been serving the litigation and arbitration communities for more than 10 years, including lawyers, litigants in person, paralegals, and judges.
Our flagship legal technology platforms – CaseRoom eDiscovery System and InSync Evidence Platform – are used by lawyers, law firms, and legal organizations to streamline workflow, increase efficiency, lower cost, and mitigate risk.  Please contact Litigation Edge at [email protected] or visit https://litigationedge.asia for more information.