Jones Day Foundation gift will fund Judicial Studies Scholarships and Top Scholar Award
Singapore Management University (SMU) today announced that it has received a gift of USD1 million (approximately S$1.3 million) from the Jones Day Foundation to fund the Jones Day LLM (Judicial Studies) Scholarships and the Jones Day Top Scholar Award.
Four scholarship awards, valued at S$40,000 each, have been awarded to international participants of the new Master of Laws in Judicial Studies jointly offered by SMU Yong Pung How School of Law and Singapore Judicial College, Supreme Court.  The Jones Day Top Scholar Award, valued at S$10,000, will be awarded to a graduating student who has excelled in the LLM programme each year.
Regional Postgraduate Degree Programme
A first of its kind in the region, the new postgraduate degree programme, which is designed to provide advanced training for serving judges and judicial aspirants both in and outside of Singapore, commenced in August 2020 with its first cohort of eight students hailing from Singapore, Indonesia, Mongolia and Nepal.
The recipients of the inaugural Jones Day LLM Scholarship in Judicial Studies are: Mr Munkh-Erdene (Mongolia), Mr Tek Narayan Kunwar (Nepal), Mr Rizkiansyah (Indonesia) and Mr Ranto Sabungan (Indonesia).
Jones Day Law Firm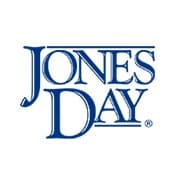 Stephen J. Brogan, Jones Day Managing Partner, commented, "Jones Day is pleased that the Jones Day Foundation has made a gift to support SMU's distinctive leadership in training students in the most important traditions of the legal profession. Jones Day's commitment to helping others is central to the Firm's institutional character. We recognise the importance of higher judicial learning for judges and are proud as lawyers to be able to support SMU's innovative programme, both directly, and now through the gift from the Foundation.  We look forward to working with SMU in fulfilling our duties as lawyers in a rapidly changing world."
Sushma Jobanputra, Partner-in-Charge of Jones Day's Singapore office, commented, "As a global law firm committed to pro bono work, and community involvement in all of our locations around the world, we take great pride in investing in the communities in which we operate, helping to advance the rule of law, and furthering the development of legal education in Singapore and the region."
SMU Yong Pung How School of Law
Professor Goh Yihan, Dean of SMU Yong Pung How School of Law, said, "We are grateful to Jones Day Foundation for their generous support towards the international participants of the new LLM in Judicial Studies, while the local participants receive sponsorship from their employers.  The inaugural cohort, which presents a good diversity of backgrounds, has enlivened the learning and exchange of ideas and views."
SMU Judicial Studies LLM
The LLM in Judicial Studies has been designed specifically for serving judges and judicial aspirants. Participants will experience a diverse curriculum that is jointly developed and taught by professors from SMU and experienced Singapore judges, as well as benefit from academic rigour of higher learning coupled with practical judge-craft.
Source: News Release