Virtual Legal Tech Conference To Be Held 28 September to 2 October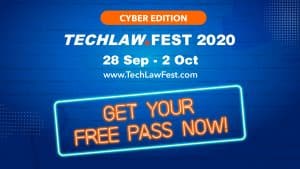 TechLaw.Fest, Asia's premier legal tech conference, has always benefited from stellar line-ups (2019's edition notably boasted Sir Tim Berners-Lee as its keynote speaker). But this year, it takes advantage of COVID-19's new normal to bring together its most impressive line-up of speakers yet, with headliners like Singapore's Second Minister for Law (and top lawyer himself) Edwin Tong; Alibaba's Senior Advisor, Tim Steinert and Google's Mary Shen O'Carroll.
With these heavyweights at the helm, this legal tech conference promises the return of intelligent, nuanced and thoughtful debate to areas like access to justice and the regulation of big tech. This is especially welcome in a time of uncertainty and misinformation.
Here are the sessions we're especially looking forward to:
TOMORROW'S LEGAL PRODUCTS, TODAY This session examines various aspects of the product development and innovation process, including persona building, product ideation and management and product counselling. (Friday, 2 October, 1.30pm – 3.30pm)
WHY, ROBOT? When driverless cars get involved in accidents, who's to blame? When it's the actions of an autonomous robot or AI-driven system that causes criminal harm, who's the 'criminal'? Are our laws ready to deal with these issues, or are there areas where changes may be needed? A panel discussion explores these questions around who bears legal responsibility when these systems cause harm. (Wednesday, 30 September, 12pm – 1pm)
TECHNOLOGY, TALENT AND COVID-19 What are some of the implications of the pandemic on how we identify, recruit, manage, develop and retain talent? How are various industries embracing technologies in the learning and development of their talent? The Singapore Academy of Law's Chief Legal Counsel joins LinkedIn Asia's Head of Talent and Learning Solutions to discuss. (Wednesday, 30 September, 7pm – 8pm)
50 SHADES OF ODR You've heard it thrown around in every conversation about access to justice, but what exactly is Online Dispute Resolution and what does it entail? Is it time for a common definition? The Executive Director of the Singapore Mediation Centre explores these issues in his panel. (Thursday, 1 October, 1.30pm – 3pm)
HOW GAME CHANGING ARE eHEARINGS? This Tech Talk by Serena Lim and Brad Mixner, co-founders of Litigation Edge, will provide a quantitative analysis on the impact of virtual hearings (Tuesday, 29 September, 3pm)
All times listed above are GMT +8. TechLaw.Fest will be held virtually from 28 September to 2 October 2020, attracting some 5,000 participants from more than 80 countries. Free tickets are available at www.techlawfest.com